I finished my sock yesterday!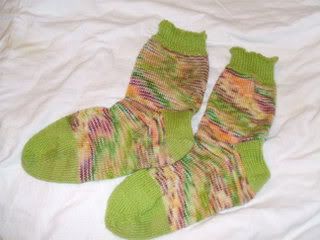 I love them!
pattern: I made one up using lots of different ideas
yarn: Yarn Love Juliet
colorway: Cupid and Spring Green
needles: size 1 dpn's
I thought I would list what I have OTN and the moment and then what I have planned for the next little bit.
OTN:
Longies for Toby
Socks for John
LTK Babywearer Poncho for me
Planned:
Longies for Hannah
Hat and Mitten set for MIL for Christmas
Shawl for my mom for Christmas
More socks for me
Sweaters for the children
I also really want to learn to spin.