I knit this hat on Saturday for the Warm Woolies project. I think it turned out cute and took no time at all. It fits Hannah with a bit of room.
pattern: I made one up.
size: 12-24 months
yarn: Lion Brand worsted held double
colorway: garden something?
needles: US 11
I weaved in the ends on this sweater on Sunday. I started it last Fall and it was to be for Toby. It does not fit him now and it really won't come next Fall/Winter. I will add this to my growing little pile for Warm Woolies.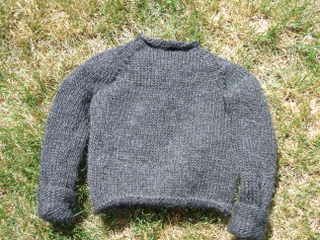 pattern: :LTK Raglan in the Round
size: 3T
yarn: Lamb's Pride Bulky
colorway: Deep Charcoal
needles: US 8 & 10.5
My sock progress is coming along slowly but surely and I can't wait to have both socks to wear. I sit and knit on the second sock while wearing the first. It gives me motivation.