I started John's socks the end of May. I was in love with the yarn and the pattern and I was just cruising along. He was very happy and excited to wear them. Then I became bored with them. I cast on and finished the Apron top without even picking up the sock. Then I cast on and finished the doll. When that was done I knit a few rounds of the sock and then cast on for the MS3. Here it is with chart A finished: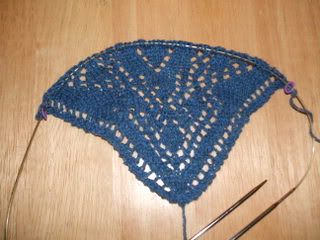 It is not blocked and it looks pretty raw but I love it. :)
This is not all. I swatched for something else(super soft baby alpaca!)and have big plans to cast on for it tonight. Pictures to come.
I feel a little guilty. He hasn't said anything about it but I know he really wants these socks. I suppose I should go knit a bit more on the sock.