Look what arrived in the mail yesterday. It is from the MDC March Magic Yarn Ball Swap.
Here it is all wrapped up:
Unwrapped: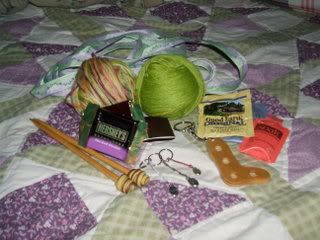 It is just fabulous! The yarn is sock yarn form Yarn Love. Cupid and Spring Green colorways. I can't wait to cast on a pair of socks with it! My swap partner also sent me a pretty ribbon, some yummy tea and chocolate, some stitch markers, wool wash, cute needles, and an adorable sock blocker key chain with a pattern to knit a tiny sock so go on it! I am so happy!
We took the kids target practicing on Friday and then we made foil dinners on coals last night. John has had the last three days off and we have had a blast! Jack and Christy had Science class yesterday and made periscopes with mirrors.
I am going to try to post everyday. Hopefully in the morning before the children wake up.