Jack, Hannah and I made banana bread this morning. Three beautiful loaves!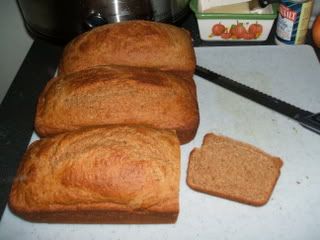 While we baked bread Toby laid in misery on the living room floor and Christy read to him. We are having banana bread, cheese and juice for lunch.
We have decided(starting this year)that we are going to focus on the Resurrection on Easter and not do secular Easter stuff. We are going to do "spring" baskets instead of Easter baskets. We will give the children these baskets on the first day of Spring. This way they still get the fun of Easter eggs and hunts and baskets and Easter Sunday will be about Christ.
I am planning on our Easter supper being broiled fish and honeycomb. I will probably add something to the meal as that seems not a lot to eat. I was thinking of serving cheese, and grapes, dates, flat bread...
We are also taking a few minutes each evening this week and talking about what Christ did on that day during His last week. So, Sunday we talked about His Triumphal Entry, yesterday about cleansing the Temple and tonight we will talk about some of His parables and teachings.
I have this great book called A Christ-Centered Easter that has a bunch of great ideas and has been very inspirational in our quest to truly have a Christ-Centered Easter. The authors are LDS. I picked it up at Walgreens a couple of years ago and am just now getting around to making the changes.