I want to document how I made this batch so I can remember. I made a sponge in the morning with 1.5 cups starter and added 3 cups WW flour and 2 cups unbleached flour and 4 cups water. I let is sit for about 11 hours and then I added 4 cups WW flour and 1/2 cup water and 2 tsp salt. I kneaded it for 10 min and then oiled my dutch oven. I put the dough in the pan and covered it with a cloth diaper and let it sit overnight on my counter.
I woke up this morning to find my dough had risen over the edges of my pan. So, I squished it back in and let it rise an hour longer. I placed my pan on the back burner of my stove and turned the oven on to heat it up nicely.
This morning I preheated the oven to 400, slashed the top of the dough and cooked it for 10 min. Then I turned the oven down to 325 and baked it for 70 min.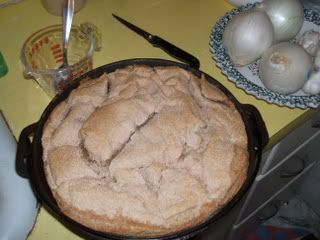 The crust was pretty hard. I oiled my dutch oven with coconut oil but I still could not get the dang bread out in one piece.
It was so heavy my poor cooling rack was sagging! LOL! The inside was nice and chewy. Pretty sour though. I am not a big fan of sourdough but I will learn. :) It tastes much better with butter slathered on it. I think I will make a smaller loaf this next time. I started a new sponge with 1 cup starter, 1 cup WW flour and 1 cup unbleached flour, and 1 1/2 cups water.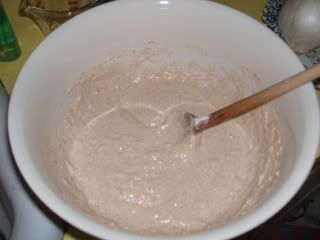 *fingers crossed!*
In knitting news-I am working on Hannah's longies: