I have it, bad.
This winter has been very snowy and cold. I love winter but I am definitely ready for spring. I cannot wait to dig my hands into the earth and bring forth life. Yesterday it was a balmy 51 degrees! As I was walking out to go to church yesterday morning I saw this:
Isn't it beautiful? I love the sweetness of new little plants just poking their way up through the ground. The front flower bed will be a gorgeous showing of daffodils and tulips.
When I was in the backyard hanging up the cloth diapers on the line I saw this: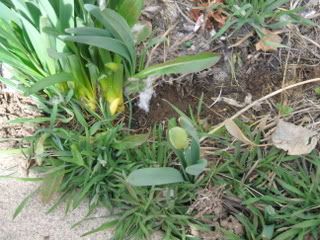 Our first daffodil of the year! This is out by our dryer vent and this spot gets a lot more sun than the front flower bed.
And, this was a glorious sight to behold:
The first time the diapers have been out on the line all year. I cannot describe the pure joy I feel when I look at the cloth diapers on the line. I kept looking out my kitchen window yesterday just so I could watch them blow in the wind.
To top it all off I show you this:
My amazing perfected sourdough bread!
I have spent the morning planning our garden. I think we are going to try making and planting two 4x4 square foot beds this year. We have room to put one right to the south of the front flower bed and then we could put one
in
the flower bed. I was thinking that after the daffodils and tulips are done blooming we can but a box in it. I do not really like that idea though, but I am not sure our land lady will let us put the boxes in the backyard. The front area is kind of "ours" but the back is kind of "hers". If she will let us use the backyard we would put in three boxes back there. There is room for more but we do not want to start too big. It doesn't hurt to ask, right? I am conflicted about it though. The boxes would be so much closer if we did them on the side and I think I would take better care of them if they are just outside the front door(we do not have a back door so we walk all the way around the house to get to the back yard). Really not a big deal, but it might be better to start close. I do not know. I waffle. *grin*
Jack is getting ready to pull the few weeds we have. He is very excited to do it. Christy is making chocolate chip cookies. Toby and Hannah have croup and are miserable sick babies. It is freezing cold again today. *sigh*